Evry, 12 October 2023
In its first EcoVadis assessment, Global Bioenergies reached the top 30% of the most performing companies in terms of CSR among the 110,000 companies worldwide surveyed by the rating organization. The Company obtained the bronze medal. This award recognizes the company's sustainable development performance, orchestrated around 4 pillars: Environment, Social and Human Rights, Ethics and Responsible Purchasing.
Rym Khelif, CSR Project Manager at Global Bioenergies, comments: "We are on a trajectory aiming for exemplarity and many actions of course remain to be implemented and formalized. Nevertheless, we are progressing fast, as demonstrated by the two-fold improvement in the Gaïa assessment – a rating organization comparable to EcoVadis – between 2020 and 2022. Our latest example: we have cut our electricity consumption for our Evry laboratory by almost 30% over the last 24 months, saving the equivalent of 180MWh per year."
Marc Delcourt, Co-founder and CEO, adds: "The cosmetics industry is driven by a desire to improve CSR standards beyond naturalness, and at all levels of the industry, in order to establish itself as a reference for other major sectors of activity. As a supplier of cosmetic ingredients exchanging with the biggest names in the sector, the EcoVadis rating underlines our contribution to this effort and allows us to materialize our CSR commitment to our customers."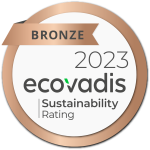 About GLOBAL BIOENERGIES
Global Bioenergies substitutes products of fossil origin with products of natural origin. In their quest for naturalness without compromising on performance, the cosmetics players are the Company's first customers. By 2027, the Company will be operating its innovative process in a large-scale plant. By 2030, the Company plans to become a leader in the huge emerging market for sustainable aviation fuels, in order to fight against global warming. Global Bioenergies is listed on Euronext Growth in Paris (FR0011052257 – ALGBE). L'Oréal is its largest shareholder, with a 13.5% stake.
Receive information about Global Bioenergies directly by subscribing to our news feed on www.global-bioenergies.com
Follow us on LinkedIn: Global Bioenergies